Jump to Recipe
Simple
Today I have for you a simple sourdough rye bread, featuring flour from Grapewood Farm. When you think simple, do you think of baking bread? Perhaps not. In our culture, the word "simple" has come to be equated with easy, fast, or requiring little effort.
I just looked up the definition of simple, and it says "not complicated or elaborate" and "easy to understand." I think that applies to our recipe today for sourdough rye bread.
The simplicity of it is you mix up some flours with a sourdough starter and let it sit. The next day you add some more ingredients and let it sit some more. You form it, you bake it, and you have bread.
It's simple, yet at the same time it's wondrous how dry flour can ferment and become a nourishing food to your body. I love the weekly rhythms of baking bread and the uncomplicated nature of making food where I control the ingredients. Join me in making this recipe, and leave me a comment to let me know how it turns out.
Sourdough
Sourdough is a living culture of flour and water. Beneficial bacteria predigests the grain and in turn helps your body digest it. A sourdough starter consists of a mixture of flour and water and is "fed" on a regular basis to ensure the bacteria don't die off.
Instead of using instant yeast, as in many commercial bread preparations, sourdough bread receives its lift from the gas given off by the bacteria. That's right, folks, the bacteria eat the flour, give off some gas, and leaven our bread. Kind of weird, right? Just think about honey. Bees chew on nectar, pass it around to fellow bees to chew on, then store it in honeycombs. We humans eat all sorts of strange foods.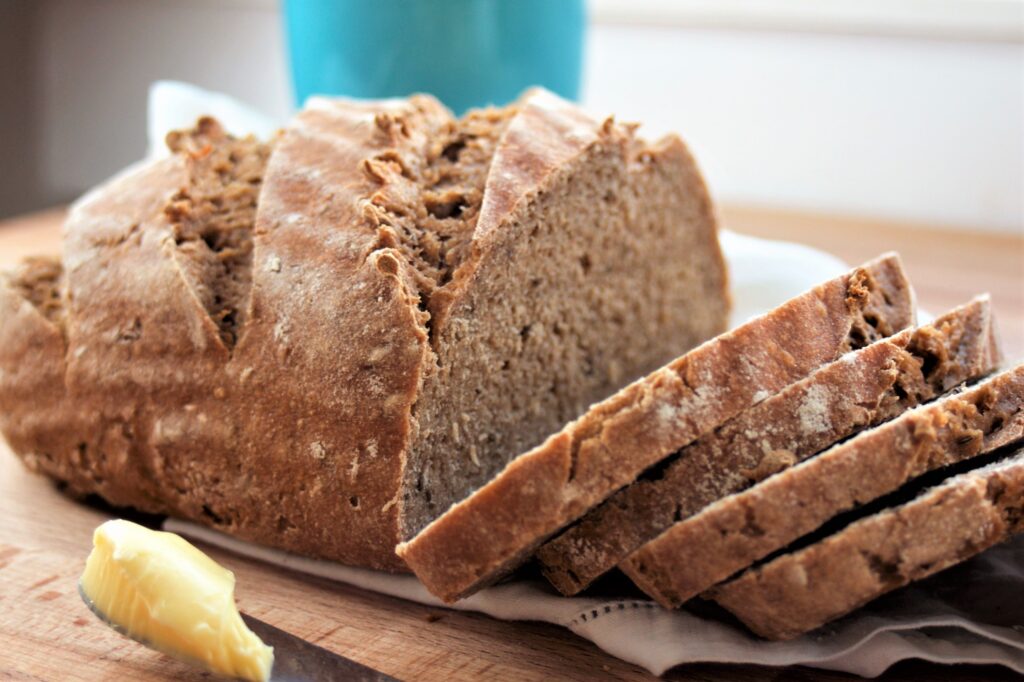 Rye
Rye is a grain similar to wheat. It has a different nutrient profile, is slightly higher in carbohydrates and is a bit lower in gluten. I use danko rye from Grapewood Farm, #70 sifted flour with bran, combined with hard red wheat flour #50 sifted.
Bread
The flavor was perfectly tangy – a combination of the sourdough starter and the flavor profile of the rye. I have some sauerkraut on hand, and I'm excited to turn this rye bread into Reuben sandwiches for my family.
What are some other ways to enjoy this Simple Sourdough Rye Bread?
One of my favorite ways is to make it into a grilled cheese. There's little more that I like beyond toasted bread, melted butter, and cheese. So good.
Make two loaves of rye bread, with plans to turn the second into a savory bread pudding.
And finally, soup and bread is a pretty common dinner around here. A pot on the dining room table, a loaf of freshly baked bread, and some butter fills us up and nourishes our bodies.
Before You Go…
Check out these other simple recipes that are worthy of your time and ready to nourish your body.
Turkey Chickpea Soup with Wild Rice
A hearty soup featuring leftover turkey, chickpeas, and wild rice, and can be made in the Instant Pot.
Check out this recipe
French Green Lentil and Butternut Squash Salad with Goat Cheese
A hearty fall salad that's packed with flavor and built on nutrition.
Check out this recipe
Fermented Sourdough Rolls with Seeds
Perfect, pillowy, tangy sourdough bread is studded with sunflower seeds, chia, and flaxmeal. Melted butter brushed on top is the crowning touch. Read on for the recipe, and be sure to add them to your Thanksgiving or holiday menu.
Check out this recipe
Thanks for reading, and I'll see you again soon.
Rebekah
Simple No Knead Sourdough Rye Bread
Enjoy the simplicity and rhythms of bread baking with this sourdough rye bread.
Equipment
Dutch oven or covered pot that can go in oven

sourdough starter

Cornmeal or parchment paper for baking
Ingredients
1 1/2

cups

rye flour

I used Grapewood Farm danko rye flour #70 sifted with bran

1/2

cup

water

1/4

cup

sourdough starter

fed

1 1/4

cups

additional rye flour

I used Grapewood Farm danko rye flour #70 sifted with bran

1 1/4

cups

bread flour

I used Grapewood Farm hard red wheat flour #50 sifted

1 1/2

tsp

salt

3/4

cup

additional water

1

tbsp

caraway seeds

optional
Instructions
The night before, mix together 1 1/2 cups rye flour, 1/2 cup water, and 1/4 cup starter. Cover and let sit overnight at room temperature.

The next morning, add additional 1 1/4 cups rye flour, 1 1/4 cups bread flour, salt, 3/4 cup water, and optional caraway seeds. Stir, cover, and let sit at room temperature for 30 minutes.

After 30 minutes, stir from edges and pull in towards center, giving the bowl a quarter turn each time, until dough is folded. Cover and let sit 30 minutes. Repeat 3 more times, for a total of 2 hours. Cover in between folding.

Turn dough out onto a floured surface. Gently flatten dough. Using floured hands if necessary, fold the far edge in towards the center, the side edges overlapping the center, and the edge closest to you up and over to form a boule (a ball). Gently shape the dough, turning, until dough is tight. Cover with the bowl the dough was in for 10 minutes to rest.

Shape the dough a final time. If the pot you plan to bake the bread in is round, reshape the dough the same way into a boule. If the pot is oval, shape it into a loaf by following the same steps, but instead of pulling the close edge up and over, you will roll the dough into a log shape.

Line a banneton or bowl with a flour dusted towel and plop the loaf in, seam side up. Cover with a damp towel and refrigerate for at least 12 hours before baking.

When ready to bake, heat oven to 450 degrees Fahrenheit, placing Dutch oven in to preheat. When hot, carefully remove and sprinkle cornmeal on the bottom of the pot (or use parchment paper). Place the loaf, seam side down, into pot. Score the top with a lame or sharp knife and cover.

Bake for 15 minutes. Remove lid, and bake 20-30 minutes longer until golden brown. Let cool before slicing.