Notes of Cinnamon and Cumin
Today I have a recipe for you that will please just about anyone, whether you suffer from a histamine intolerance, are looking to stick to your anti-candida diet, are paleo, or are an omnivore. It can be dinner, it can be lunch, and I'm even known to eat it for breakfast from time to time. This Beef and Sweet Potato Saute has notes of cinnamon and cumin and comes together with the addition of creamy coconut milk. Read on for the recipe, and tell me, how will you serve this recipe? As a thick stew? Over rice? Or with some avocado slices on top? I'd love to know. Leave me a comment below.
Jump to Recipe
One of My Favorites
It's the dead of winter here, but I don't mind. After the busyness of Thanksgiving and Christmas, I like the peaceful stillness of January. There is a stark, quiet beauty in it. I walk outside and appreciate the lines of the bare branches while enjoying the greenery of the pines. I wear my coat and hat to walk the dog, and feel thankful to come back to a warm house after our chilly walks.
One of my favorite foods to make in the winter is this Beef and Sweet Potato Saute. It warms me right up and satisfies my body's need for nutrient dense food.
I have made this dish countless times, but have never followed a recipe! It was a little strange to measure things out and write them down so that you, too, could enjoy this family favorite.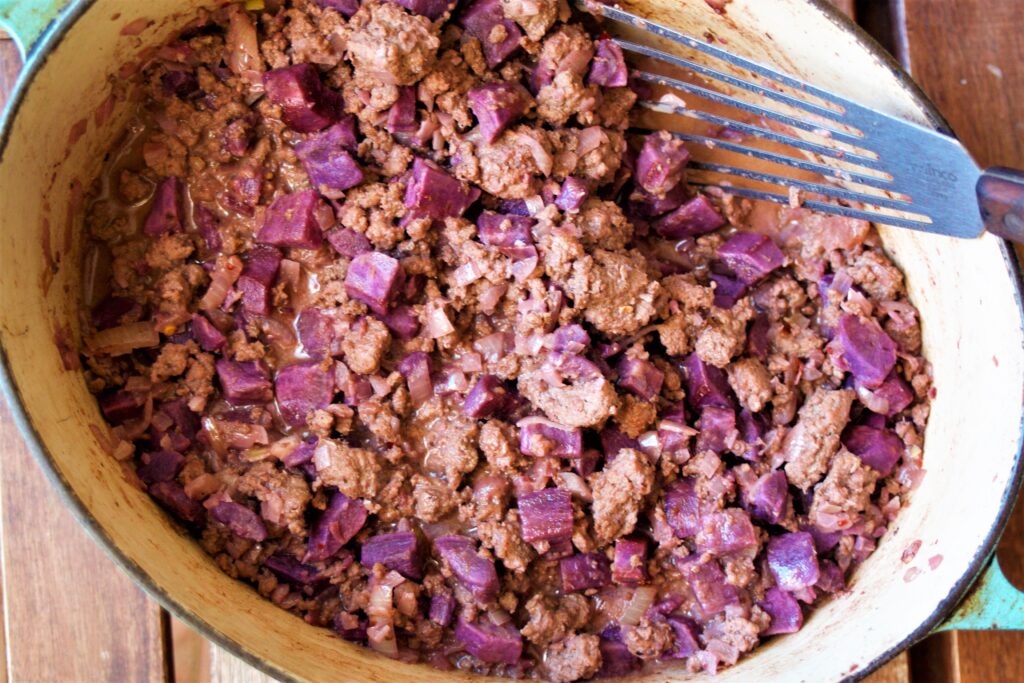 The Benefits of this Beef and Sweet Potato Saute
I like beef. I mean, it's just so good. Steak, ribs, you name it. It's packed with protein, which helps maintain muscle mass (which in turn helps avoid excess weight gain). It has tons of nutrients, from zinc to selenium, iron to B12 and B6. And when I use ground beef, it's super fast and convenient. I can season it any way I like to fit a variety of dishes. In this recipe, I like to use cumin and cinnamon to give it an earthy flavor.
Choose pasture raised, grass fed beef for best nutrition and flavor.
The sweet potatoes I had on hand for this recipe are purple! They look so pretty. You can use traditional orange sweet potatoes, and you can also find white sweet potatoes. Take your pick.
Sweet potatoes are high in fiber and antioxidants. The richer the color, the higher the antioxidants. I like to add sweet potatoes to this dish because the flavor pairs well with the cinnamon and cumin.
The other main star of this recipe is coconut milk. It is a healthy fat and is a great alternative to those who are dairy intolerant. For those who follow a low histamine diet, however, coconut milk may not be the best choice. Some may tolerate it just fine, while others may be affected by it. If you don't do well with coconut milk, you can choose almond or hemp milk instead.
This Beef and Sweet Potato Saute Fits Your Diet
This dish is low histamine and anti candida. Many people suffer from histamine intolerance and/or candida overgrowth. You can read more about histamine intolerance here, and candida here.
If you suffer from candida overgrowth, portion size matters when it comes to this dish. Sweet potatoes in moderation are generally fine, but don't go overboard. Also, if you choose to serve this with white rice, it's probably best to have no more than a half cup serving of rice to avoid symptoms.
For those who have a histamine intolerance, this is a great dish to make. However, as I mentioned above, you may need to substitute almond or hemp milk for the coconut milk. Also, you'll want to avoid serving this with avocado or sour cream, which I include as optional toppings in the recipe below.
Other Wintry Nutrient Dense Dishes
Savory Bread Pudding with Winter Squash: A stick-to-your-ribs dish if I ever saw one. This dish blends savory flavors of winter squash, garlic, onion, and Parmesan cheese. Be sure to use sourdough bread for the highest nutrient density.
Easy Cheesy Baked Beans: This favorite uses soaked and cooked beans, along with pantry staples, for a fast weeknight meal that's ready in twenty minutes.
Low Histamine Almond Oat Cookies: Make some dessert to finish off this meal by preparing these almond oat cookies that are low in histamine, but you could serve them to anyone. Truly!
Thanks for reading, my friends! Let me know in the comments below if you give this recipe a try, and what color sweet potatoes you used. See you next time,
Rebekah
Beef and Sweet Potato Saute – Low Histamine and Anti-Candida
Creamy coconut milk unites rich ground beef and sweet potatoes with notes of cinnamon and cumin in this easy saute.
Equipment
Large Dutch oven or covered pot
Ingredients
2

lbs.

pasture raised ground beef

2

large sweet potatoes

weighing about 1.5-2 lbs., peeled and cut into 1 inch dice

2

medium yellow onions

chopped

4

cloves garlic

minced

1

can

coconut milk*

about 1 3/4 cups

1

tbps

olive oil, coconut oil, or ghee

2

tsp

cumin

1.5

tsp

cinnamon

1.5

tsp

salt

1/2

tsp

black pepper

1/4

tsp

red pepper flakes

2

tbsp

apple cider vinegar

optional rice**, avocado slices***, sour cream*** for serving
Instructions
Chop garlic and onions. Heat Dutch oven or large pot over medium-high heat. Add oil.

Add ground beef, garlic, and onions, and cook for about 10 minutes until beef is no longer pink, breaking it up with a spatula as it cooks.

While beef is cooking, peel and dice sweet potato into 1 inch cubes. Add cumin, cinnamon, salt, black pepper, red pepper flakes, coconut milk, and sweet potatoes and stir together. Cover and simmer over medium heat until sweet potatoes are soft, about 10 minutes.

Serve with optional rice**, sour cream***, and/or avocado slices***.
Notes
*If you are following a low histamine diet, please note that not everyone tolerates canned coconut milk well. If this is the case, you may sub almond or hemp milk instead of the coconut milk. 
**White rice is usually tolerated by those on an anti-candida diet, but portion size matters. Try to avoid having more than half a cup.
***Avocados and sour cream are a high histamine food. Avoid these if you are on a low histamine diet.