What, you may ask, is low histamine? Isn't histamine something related to allergies for which you take a Benadryl? Histamine is a chemical produced in the body as an inflammatory response to allergy, infection, or injury. Some people have histamine levels that are too high, in part due to the foods they eat.
Foods have histamine. Some higher than others. It can be hard to create a diet and meal plan that avoids high histamine levels (and therefore symptoms), but it is possible.
Read on to learn more about histamine levels, symptoms of high histamine, and foods to incorporate and avoid in a low histamine diet. And, of course, get the recipe for these (can't-even-really-tell-they're-"different") Low Histamine Almond Oat Cookies.
Jump to Recipe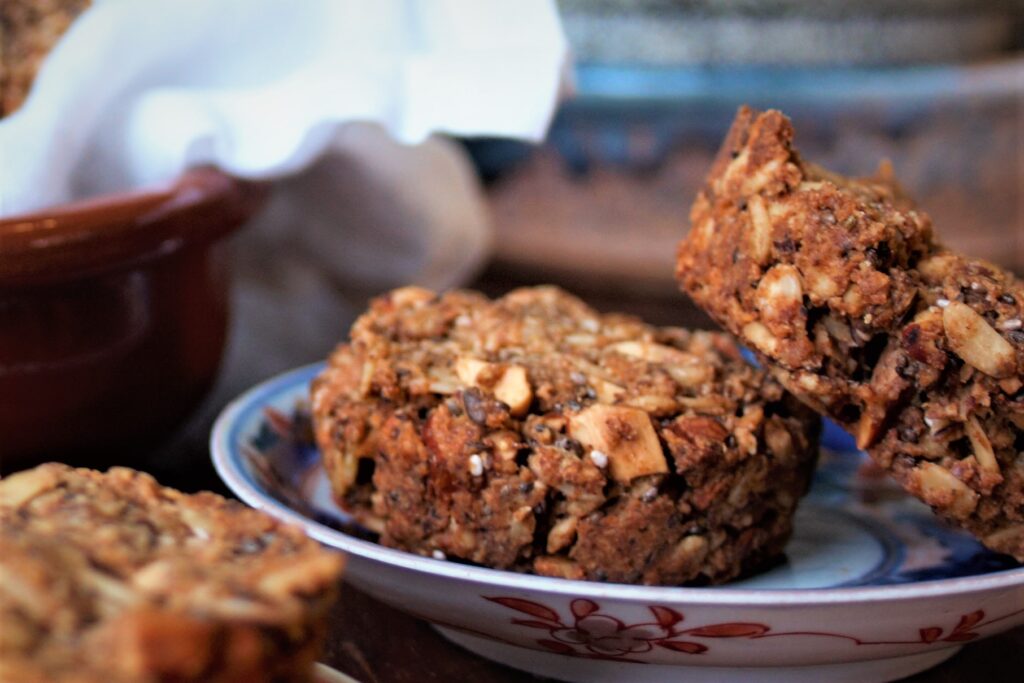 An Explanation of Histamine Intolerance
Before I explain what a histamine intolerance is, let me preface this by saying that I am not an expert. I have done a lot of reading on the subject, but I still don't know everything, and I am only speaking as one who experienced symptoms of histamine intolerance, changed my diet, and have found relief. I will include some resources for you to do more reading on the topic if you like.
Histamine Intolerance, as mentioned above, is when the histamine levels in the body are too high for a person to process, thus leading to various symptoms. It is quite complicated and easily misunderstood, but my focus today will be on how food impacts histamine levels.
There are a few ways for histamine levels to get too high:
Eating foods with high histamine levels (i.e., filling your histamine bucket too full)
Eating foods that release histamine already in the body (i.e., freeing histamine already stored in the body)
Eating foods that block enzymes that lower histamine levels (i.e., preventing HazMat from coming to clean up the inflammation in your body)
Symptoms of High Histamine Levels
There are many symptoms that could be confused with other illnesses or diseases, but here are some common ones:
Fatigue and weakness, especially after eating or drinking high-histamine foods and beverages
Headache
Skin issues, such as flushing, hives, psoriasis, and overreaction to insect bites
Gastro-intestinal issues, such as chronic diarrhea, constipation, and/or bloating
Runny, stuffy, or itchy nose
Food and environmental sensitivities, such as gluten intolerance or headaches from strong fragrances
Hormone imbalances, such as very short menstrual cycles for women or very short periods.
My symptoms were…all of these. Literally. I would feel so fatigued and heavy that it was hard to walk up the stairs. I would get pounding headaches after eating certain foods, but not realizing which ones were bothering me. I had psoriasis on my scalp that was getting worse, bloating every single day, a slightly runny nose throughout the day, headaches when I smelled strong fragrances, and my menstrual cycle was way too short for someone who is not near menopausal age yet.
After changing my diet, I have found relief in all of these areas. I now have energy to complete my daily to-do lists, my headaches are mostly gone, my psoriasis is gone, my GI issues are much more under control, my nose rarely runs, and I've added a day to my menstrual cycle, making it right on the edge of normal.
High Histamine Food Lists
The main culprits in high histamine foods are the following:
Anything fermented (alcohol, cheese, yogurt, kombucha, miso, fish and soy sauce, vinegars)
Anything canned or leftover (leftovers more than a day old grow mold in the fridge that is fine for most but not for the histamine intolerant)
Citrus fruits, tomatoes, spinach, avocado, bananas
Some people are sensitive to all nightshades (tomato, potato, eggplant, pepper)
Smoked meats, deli meats, sausage
Tea
Dried fruits
Beans, soy, and yeast
Chocolate, peanuts, and some nuts
Coffee
This is not an exhaustive list, and searching online for High Histamine Food Lists will offer some differing opinions. However, it is a starting point. It is important to listen to your body and, sometimes, look up one food at a time if you suspect it may be bothering you to see whether it is high in histamine or not.
My Experience With Histamine
I have familiarized myself with histamine intolerance over the years because my mother struggles with it. I wondered off and on if I also have a sensitivity to histamine. Sometimes I would feel tired for no apparent reason, but it wasn't excessive. However, I could not drink red wine (very high in histamine) without feeling like I needed to immediately lay down and go to sleep. So I wondered if something was up.
Fast forward to earlier this year. I was trying to figure out why I was fatigued day after day and experienced headaches. I would usually feel fine in the morning and crash in the early afternoon, after eating. One day, I was driving to the grocery store and started sipping on bone broth (high histamine) that I had brought in a mug. Within minutes, the brain fog rolled in, I had a headache, and my body felt heavy and exhausted. I knew immediately that I had developed a histamine intolerance.
Another piece of the puzzle, which I discovered a couple of weeks later, is that there was mold growing in our basement. Even though we are addressing it to completely clean out and seal the basement, the impact had already been made on my health. There is a strong connection between environmental mold and histamine intolerance, and it developed in me a histamine intolerance that I was already predisposed to.
Healing
Now I follow a low histamine diet. It is not forever, but it is essential to help me heal. I'm not sure how long I will need to follow it, but I will monitor my symptoms and eventually reintroduce foods to see how they affect me.
It was very, very hard to give up certain foods, especially socially. I don't like to be a burden if someone invites me over for a meal, but I have found that when I am up front and honest about what I am able to eat, they seek to accommodate me or are understanding if I bring my own food.
A Word About Coffee
So…coffee is high in histamine because it can develop mold during the fermentation process. But I just could not give it up. I had to have my coffee. I could willingly give up wine, chocolate, cheese, sourdough bread (willingly, mind you, but not happily), but I literally burst into tears when I thought about giving up my friend coffee.
You see, my morning routine is this. I wake up around 5 and brew my cup. I blend it with MCT oil and ghee. Then I sit on the front porch with my dog at my side and pray. I read the Bible, journal, and sometimes worship. Even though I could do all those things without coffee, it would be so hard because I love it so much.
Anyways, the good news is that I have found some excellent sources of low-mold, low-histamine coffee:
This is all I drink, except for the rare occasion I may go out with a friend and order a double espresso. And I seem to be doing ok this way. My symptoms are continuing to improve and I have energy to complete my tasks each day.
And Now For The Cookies
These Almond Oat Cookies are delightfully crunchy with a subtle sweetness from the monkfruit sweetener. The sprouted oats make them hearty, and the almond butter and sliced almonds adds fat and protein to create the perfect snack or after meal treat.
I bake these cookies in a muffin pan to get crisp edges and to ensure they are well formed. You can also form them into cookie shapes and bake them on a sheet pan.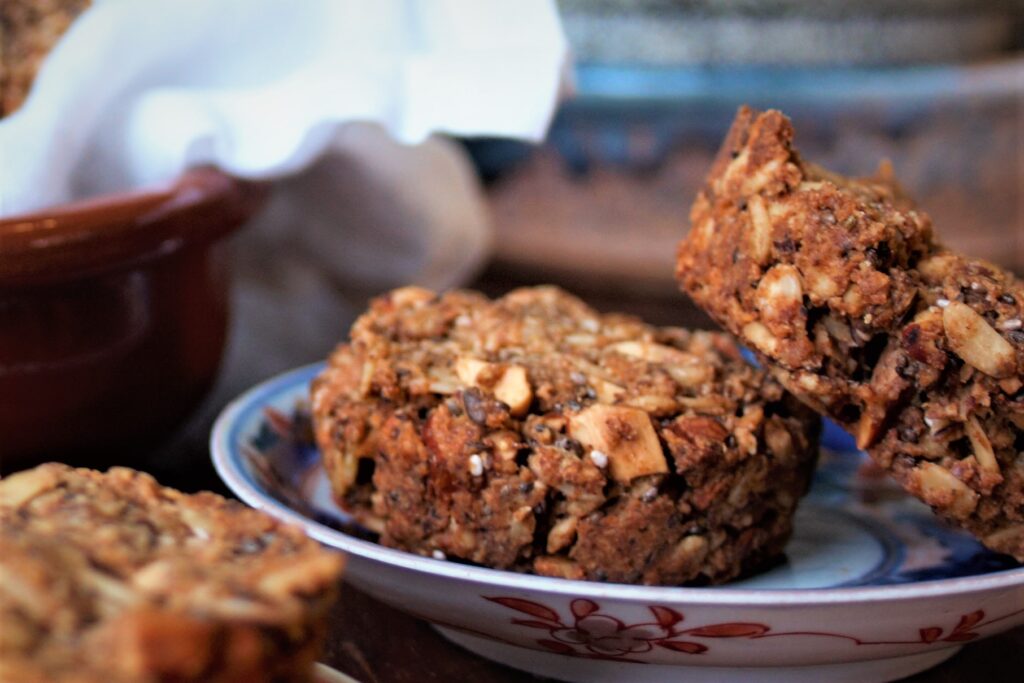 Other Low Histamine Recipes
Quinoa & Summer Squash Fritters Use up the last of the season's summer squash or zucchini with this hearty, low-histamine recipe.
Time Saving Hacks for Meal Prep While this post is focused on saving time, some of the tips are perfect for approaching a low histamine way of eating: batch cooking and freezing, and planning ahead will set you up for success.
Easy Italian Beef Burgers Fresh meat is a great option for low-histamine diets. Just be sure to freeze leftovers right away and then thaw as needed.
What about you? Do you experience any symptoms of histamine intolerance? Have you had to give up foods near and dear to your heart? I'm curious to hear. Leave me a message in the comments.
Low Histamine Almond Oat Cookies
These Low Histamine Almond Oat Cookies are delightfully crunchy with a subtle sweetness from the monkfruit sweetener. The sprouted oats make them hearty, and the almond butter and sliced almonds adds fat and protein to create the perfect snack or after meal treat.
Instructions
Preheat oven to 350 degrees Fahrenheit. Use a paper towel dipped in coconut oil to grease a muffin pan.

Mix together dry ingredients (oats through flax meal) in large bowl. In a separate bowl, mix eggs, almond butter, coconut oil, monkfruit sweetever, mangosteen, and salt. Add wet ingredients to dry and stir well.

Divide dough evenly between the muffin pan, or shape into 12 cookies to bake on a sheet pan. Bake for 25-30 minutes until edges are lightly browned. Let cool completely before removing.