I had this salad all last week, and I gobbled it up like it was the best thing ever (because it was). I tend to be somewhat lazy with salads. Usually I have them as a side, and I just don't feel like getting fancy veggies or mincing garlic to make my own dressing. I go for olive oil and balsamic vinegar, which is nice, but it's not special. I make salads as an afterthought.
When I do take the time to make my own dressing, things are different. I make a lot and store it in a jar in the fridge. It transforms the salad. Add to that a nice cheese, a fruit, and some nuts or seeds, and you have yourself an excellent meal.
For this salad I started with my usual: organic spring mix, grated carrots, thinly sliced cucumbers. Then I added tart Granny Smith apple slices, toasted walnuts, and blue cheese. That in itself is great, but wait for it…

Dijon mustard dressing! It's so easy to make, and does not require mincing any garlic or shallots. The dressing is just Dijon mustard, white wine vinegar, honey, olive oil, salt and pepper. Put it in a jar, screw the lid on, and shake it up. The mustard helps emulsify it and keeps it from separating later.
Another note — this dressing makes me like blue cheese. Normally I shy away from the intensely pungent cheese (and I like strong flavors overall) but the combination of this Dijon mustard dressing with apples and walnuts makes the blue cheese shine.
So build your salad and add this easy dressing. Pick your favorites. Goat cheese would work equally well, perfectly ripe pear would be nice. Make the base salad and pack it in a large container with a paper towel over top. Toast the nuts ahead of time. Keep your fruit in tact except for what you slice off for the day. Then, make your dressing (double or triple it as you see fit) and store it in a jar. Each morning, or the night before, you can build your salad and pack a bit of dressing separate until you're ready to eat the salad. Pair with some good bread, and you're all set.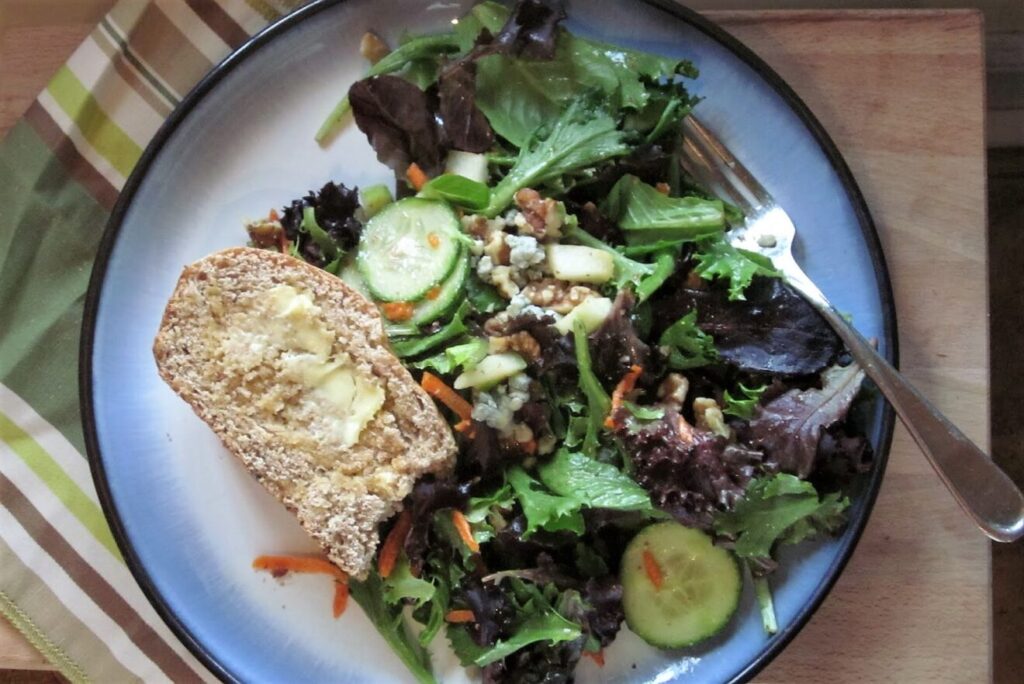 Easy Dijon Mustard Dressing
Makes enough for two large salads
3 tablespoons olive oil
1 tablespoon Dijon Mustard
1 1/2 tablespoons white wine vinegar
1 1/2 teaspoons honey
salt and pepper to taste
Place all ingredients in a jar. Screw the lid on. Shake well.