My French Breakfast radishes are always dependable. It doesn't matter how nourished the soil is or how much or little it rains, they always seem to come up — fast. Just a few weeks, and they're ready to eat. Radishes make me think of the brief time my dad had a garden when I was a kid. The radishes were dependable then, too, and I remember being on the back deck and eating them raw with salt on them.
Another way to eat them that I discovered last year is with creamy butter and salt, including the leaves. Just plop them on the table with coarse salt and butter, and slice it on your plate. The most recent Bon Appetit issue suggested putting them on a sandwich with herbed anchovy butter. I had to try it, immediately.
It was quite nice. The sandwich was not too heavy in spite of all the butter, and the radishes tasted really fresh. I ended up adding more anchovies straight to my sandwich because I like them so much. I had this with green beans, and it was a filling meal.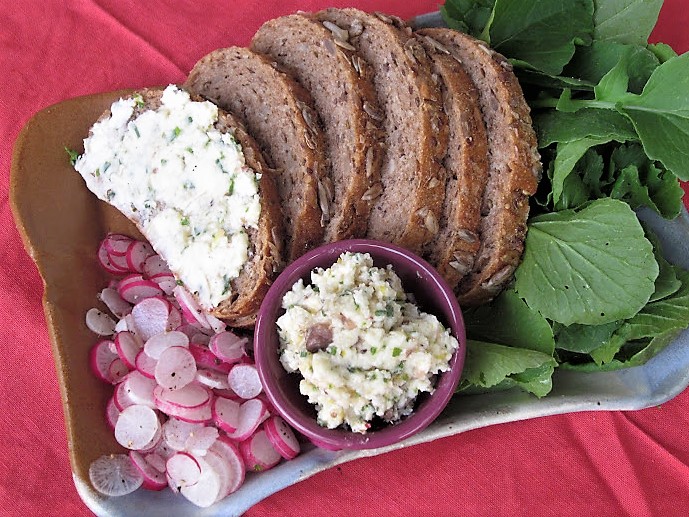 Radish Tea Sandwiches
Makes enough for about 4-5 smallish sandwiches
From Bon Appetit May 2012
1/2 cup room-temperature salted butter
5 (or more) mashed drained anchovies
1 clove garlic, mashed
3 tablespoons minced chives
3 tablespoons minced tarragon
2 tablespoons fresh lemon juice
1 tablespoon finely grated lemon zest
Coarse sea salt
Fresh ground black pepper
Mix together in bowl
1 loaf whole grain sourdough bread
12 radishes, thinly sliced, with leaves
Extra anchovies (optional)
Spread herb butter on each slice of bread. Fill with sliced radishes and greens. Add extra anchovies if you like.
Other posts you might like: